Last Updated on April 26, 2022 by Eric
If you're looking for a fun and tasty summer activity, scalloping is the way to go! But when is the best time to go scalloping? And what are the scalloping season dates? Below, we'll discuss factors you should consider when deciding when to go scalloping in Florida. Whether you're a novice or an experienced pro, read on for the scoop on scalloping season!
The scalloping season in Florida typically runs from July to September. Official scallop season varies from year to year and by county in Florida, so check with a local guide or the Florida Fish and Wildlife Conservation Commission for exact dates.
The best time to scallop depends on your time restraints and personal preference. For instance, if you want to avoid the crowds, you might want to scallop early in the season. Harvesting may also prove more bountiful the earlier in the season you go. On the other hand, scallops are abundant through the end of the official season, so f you're aiming for a later trip, no worries; there are plenty of scallops to go around.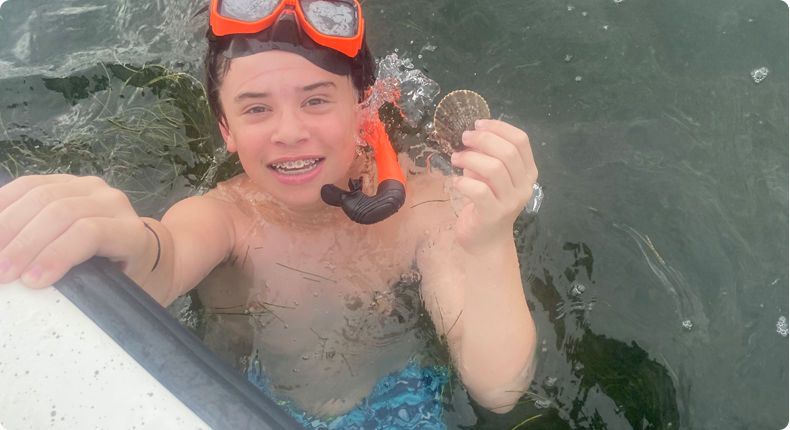 The weather is another important factor to consider when scalloping. If you're not a fan of hot and humid summer days, scalloping early in the season might be a better option for you. But if you don't mind a little heat, scalloping later in the season can be a great way to enjoy the last few weeks of summer.
Are you looking for a fun, exciting summer adventure?
Explore the crystal clear waters of the Gulf of Mexico and search for scallops with Capt. Casey of Crystal River Guide Service. Our trips are perfect for families, friends, and groups of all sizes.
We provide everything you need to have a great time on the water – from fishing licenses and boats to comfortable seating and safety devices. Let us do all of the prep and clean-up work so you can spend your day enjoying the beautiful outdoors, searching for scallops. When you find them, you'll be well on your way to a great fresh seafood treat that is second to none!
The best part is that it's easy! All you need are some shorts and a t-shirt, and we'll provide everything else. In addition, we have trips available for all ages and experience levels, so there's something for everyone.
Join us soon for the best scalloping trips on the west coast of Florida!