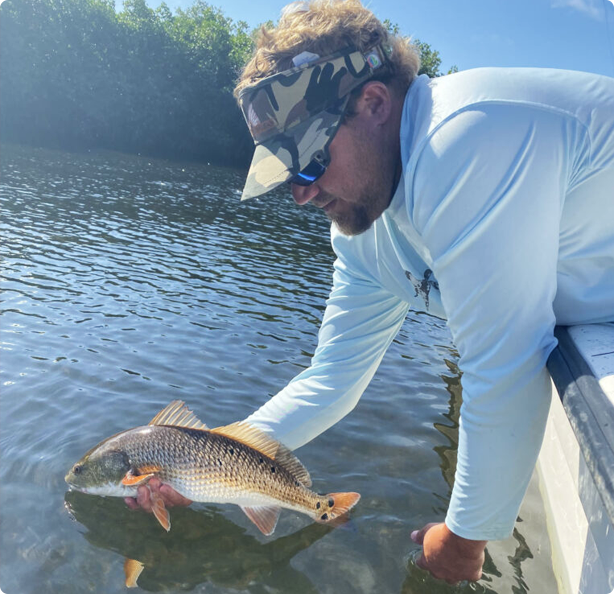 Crystal River Fishing Captain
Captain Casey Russell is a USCG Licensed captain and holds his certification as an able bodied seamen. He is originally from Kill Devil Hills, North Carolina also known as the "Outer Banks", where he has dedicated his life to fishing, hunting and everything wildlife.
Casey has spent every minute that he could at the end of Avalon Fishing Pier, so much that It became his bus stop as a kid. Spending his childhood there allowed him to shadow some of the best fisherman in the world. Over time he evolved and mastered different techniques while learning multiple methods that would make him the versatile fisherman he is today. The pier and the surf of the Outer banks were his headquarters for fishing until he was able to drive.
Becoming a 1st mate at the age of 16, Casey found himself on the "square end" of his first charter boat. He loved every second of it. Early mornings to the late evenings, the job of a 1st mate in the Outer Banks never ends. While this job wasn't for everyone, it was where Casey thrived and from then on knew what he wanted as a career. Spending most of the year in the cockpit and coaching clients on how to catch fish of a lifetime was a dream come true. After spending a few seasons in the world of a mate, it was time to further his education in his passion of marine life.
Cape Fear Community College is the only school with a short drive from the ocean, so that is where he attended. An Associates in Applied Science of Marine Technology is the degree he earned. The curriculum offered a hands-on and biological approach to marine science. Traveling up and down the coast and as far reached as the Bahamas this program made Casey a more well-rounded individual.
It was game on after college, knowing the charter boats were waiting for him he didn't waste anytime getting back into the cockpit. Casey fished on multiple boats before he found his home on the back of the boat the "Fistful". This is where his life changed. The Fistful is captained by Karl Helmkamp, you've probably heard of him.
Casey and the Fistful became an unstoppable team, they acted as one unit, it was a sight to see. Capt. Casey spent the next seven years fishing on the Fistful catching everything from bluefish to the blue marlins and everything in between. When Casey wasn't fishing for a living he was fishing for fun, you can ask anybody. After seven years of fishing under a respected captain and having customers that became family, it came time to for Casey to branch off and get his own dream going.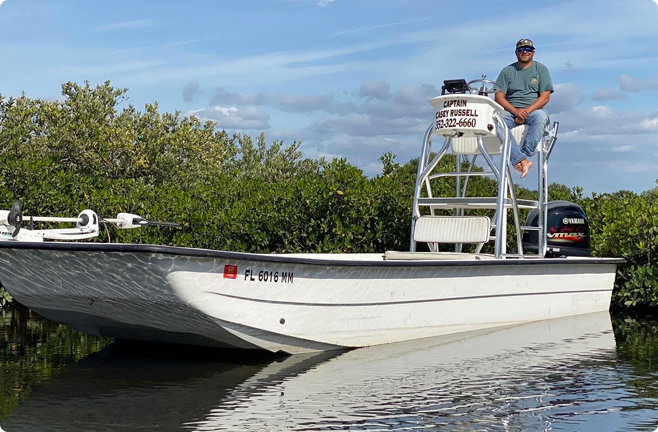 Crystal River, Florida. It only took a few trips for Casey to figure out that this was a special place. Casey fell in love with everything that the nature coast provides, redfish in the mangroves, Speckled trout and Snook in the shallows to scallops in the grass. THIS is why Casey landed in Crystal River. Starting his own business and becoming his own boss has always been a goal for Casey. He made the jump and bought a boat from another local guide which gave him his platform to form his career. Casey has always been the type of person that wants a challenge or a target to drive him. Having a strong goal oriented mindset has proven to be a great quality to have as a captain as bent fishing rods are the typical result. Although he is not your native Floridian, he has a vast amount of knowledge and ability that consistently puts fish in the hand of customers. Captain Casey Russell will make sure you have a great time on the water and he'll do whatever it takes to catch fish. To be honest, he probably wants to catch fish more than you!!