Last Updated on October 6, 2021 by Eric
Fall fishing in Florida is easily considered the best time to fish the state by our resident inshore fisherman. While summer brings in some amazing fishing action, Fall brings in a few other aspects that make for an epic fishing season.
Let's look at why and how Crystal River fits into the equation.
Crystal River Fall Fishing
Without a doubt, Crystal River is one of Florida's most highly active year-round fisheries. When we look at Fall, we might be seeing some species like tarpon begin to migrate away, but at the same time – some of the most popular inshore favorites take center stage, more so than others. This is for a variety of reasons, and we will describe those below with our focus being on the top three most popular fall species of gamefish.
Grouper
Crystal River is home to a healthy and large population of shallow-water grouper. Gag Grouper to be specific. We recently went into detail about this species here, but this list is far from complete without starting with this Fall favorite. While available all year long, this species becomes a focal point in fall.
Switching gears from tarpon and some other summertime favorites, Gag Grouper become one of the most sought-after species in the area. This is one of the few places where shallow-water groupers exist. Finding a home in the shallow rock formations along Crystal River's nearshore waters, this species takes to flats style fishing with baits and lures with ease. Alongside cooler weather and reduced boat traffic, Fall grouper fishing is number one.
Redfish
Everybody loves summertime redfish, they aggressively hit live baitfish, lures, and even topwater offerings with exciting displays. This is also another resident species that is available here all year. What makes Fall so different is the combination of redfish spawning and changes in diet.
Redfish spawn in the area during Fall, in the nearshore (about 50-foot depths). These spawning redfish are also larger than the average, reaching an adult age for the species. When these spawning redfish get hungry, they rush the flats of Crystal River on the hunt for food. At the same time, the resident juvenile species are still in the area. Combined, you will find a massive increase in redfish populations, bigger quality redfish, and an opportunity to sight fish for reds unlike any other.
Fall also starts to show a change in what redfish are eating on. As baitfish leave the area, redfish turn their attention to bottom feeding. When this happens, they "tail". Tailing redfish is one of the most exciting to target and catch, and Fall is the time to start getting into that action.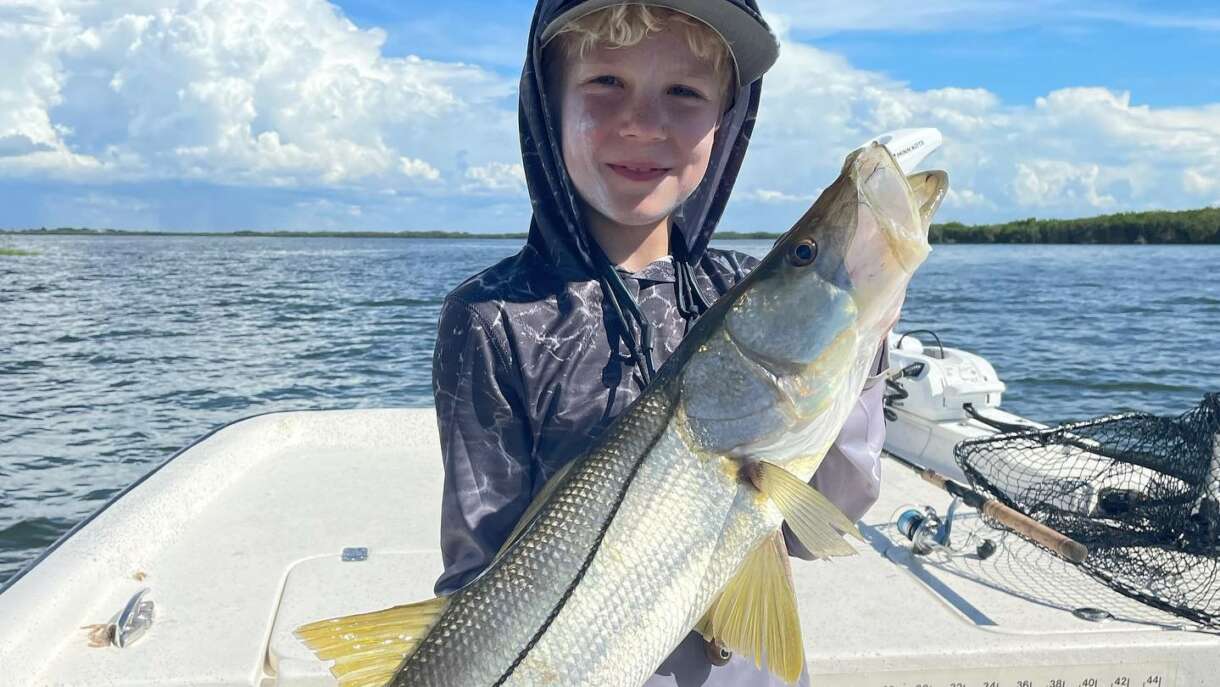 Snook
Considered a favorite over many other inshore species, including redfish, by experienced inshore anglers, snook is still readily available in the Fall. They are a little less affected by the cooler temps in Fall and remain in the area. In this, they will remain a top three favorite in Crystal River even as the seasons change.
Fish With Crystal River Guide Service
We love Fall fishing and would love to invite you to fish with us. We have created a shortlist of links below to get you started on your next amazing Crystal River fishing journey.