Last Updated on December 29, 2021 by Eric
Crystal River is one of the most active inshore fisheries found anywhere, during any time of year. Among the species we like to focus on in winter, sheepshead climbs to the top of the list fairly quickly. Take a look at the "when and how" information below to get started targeting this fun and tasty species along The Nature Coast.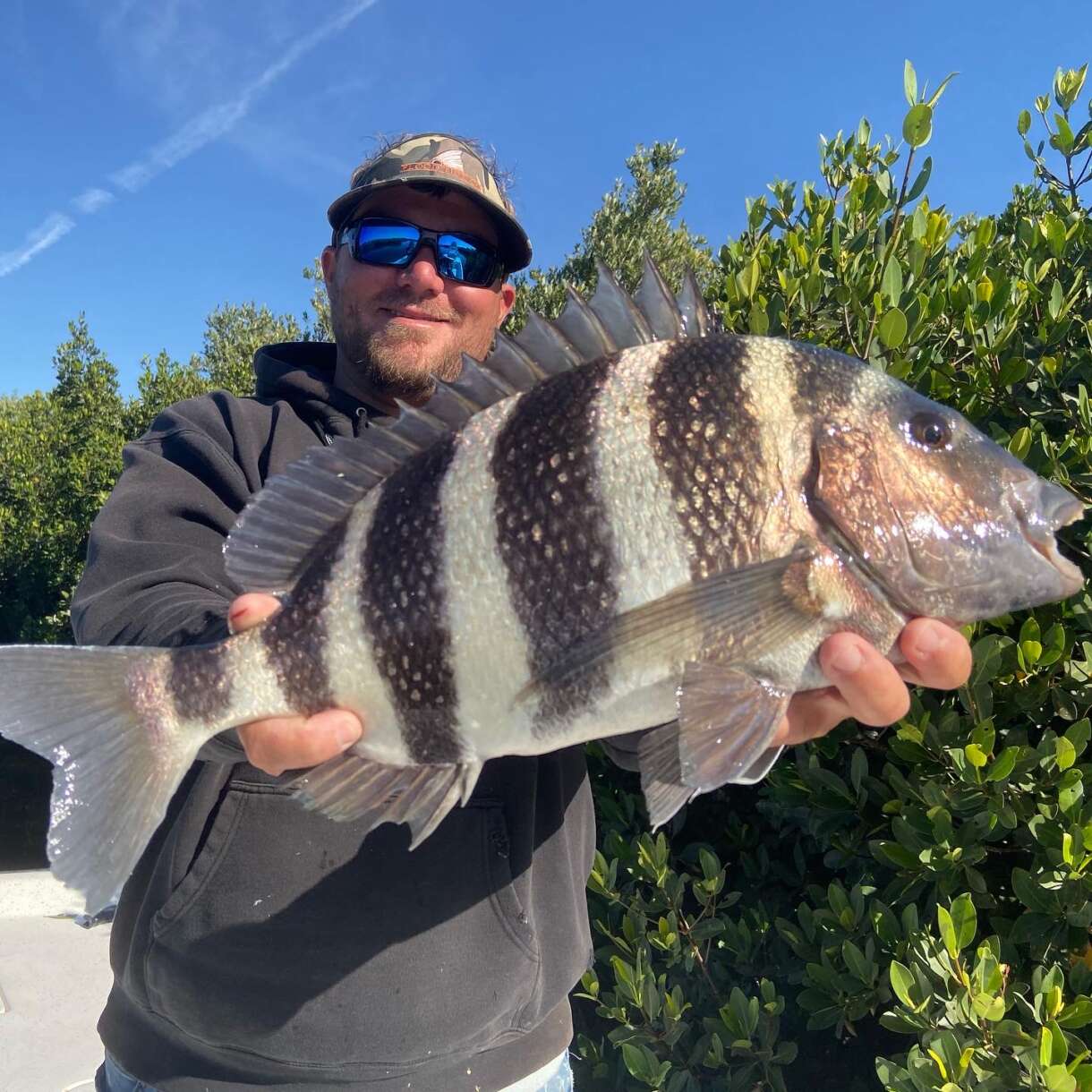 Sheepshead Season In Crystal River
Crystal River sheepshead can make an appearance on the end of your line at nearly anytime of year. During the inshore grouper fishing season, in depths around 20 feet, along the same rock piles we target these gag grouper in, sheepshead make regular appearances.
However, as we roll into winter, sheepshead start migrating inshore. This is when we begin targeting them during our wintertime charter trips.
The primary months for targeting sheepshead in Crystal River are:
December
January
February
Though ramp-ups in sheepshead inshore activity can start in November, and the good fishing can last until March.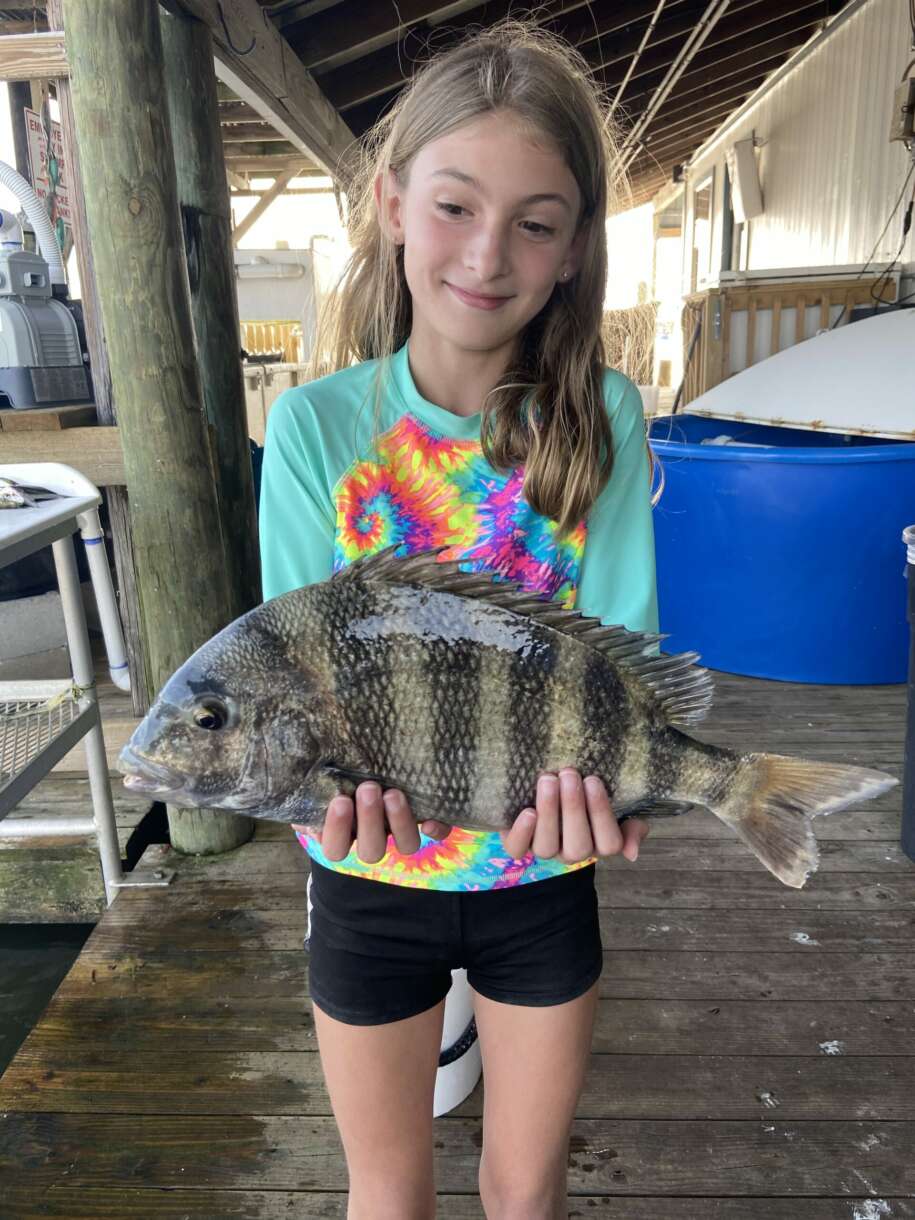 Targeting Sheepshead
Sheepshead love two things, structure and crustaceans. Thanks to barnacles, nearly any structure can attract sheepshead. While traditionally anglers will target sheepshead on bridge and dock pilings; oyster beds, rock formation, and mangrove root systems can all attract sheepshead as well.
Sheepshead Bait
The go-to bait for sheepshead is shrimp. Artificial lure anglers will find that scented soft plastics, such as Berkley Gulp Shrimp, can achieve similar results.
Bait Rigs For Sheepshead
When utilizing shrimp, a weedless and lightly weighted setup is the most popular (also known as the Texas Rig).
This one involves just a simple bullet weight (3/16 oz will work in most applications, but this can be adjusted up or down for conditions) on the leader above the hook, and a J hook (or Octopus Hook) in sizes between #1 and 1/0 (depending on the size of your shrimp).
Once that setup is together, the tail is broken off the shrimp, the hook is sent through the body (starting where the tail was).
The hook is then rotated and brought back through the bottom of the body, about 1/4 of the way down.
The hook is then pulled until the eye of the hook is back out of the tail area, but the tip of the hook is still in the meat- facing up.
The hook should now be set in such a way where the shrimp is backward (or facing the opposite way of line retrieval) with the weight resting just above the hook eye.
This creates a weedless setup.
Other Common Bait Setups
Another option is bottom-weighted rigs. These rigs are similar to "dropper rigs" except utilizing just one hook and no three-way swivel. A leader is made with a bank weight tide to the very bottom and a smaller leader that is tied above the weight, up the leader, with a hook tied to the end of that. This allows for the bait to drop in deeper waters or in fast currents but leaves the shrimp dangling in the target zone off the ground.
Another very common, and simple option, is to just freeline a live shrimp on a hook. No weights, just a leader and hook set through a live shrimp that is allowed to swim around.
There are numerous other rigs out there, each with their place, but the ones mentioned above are the most commonly utilized.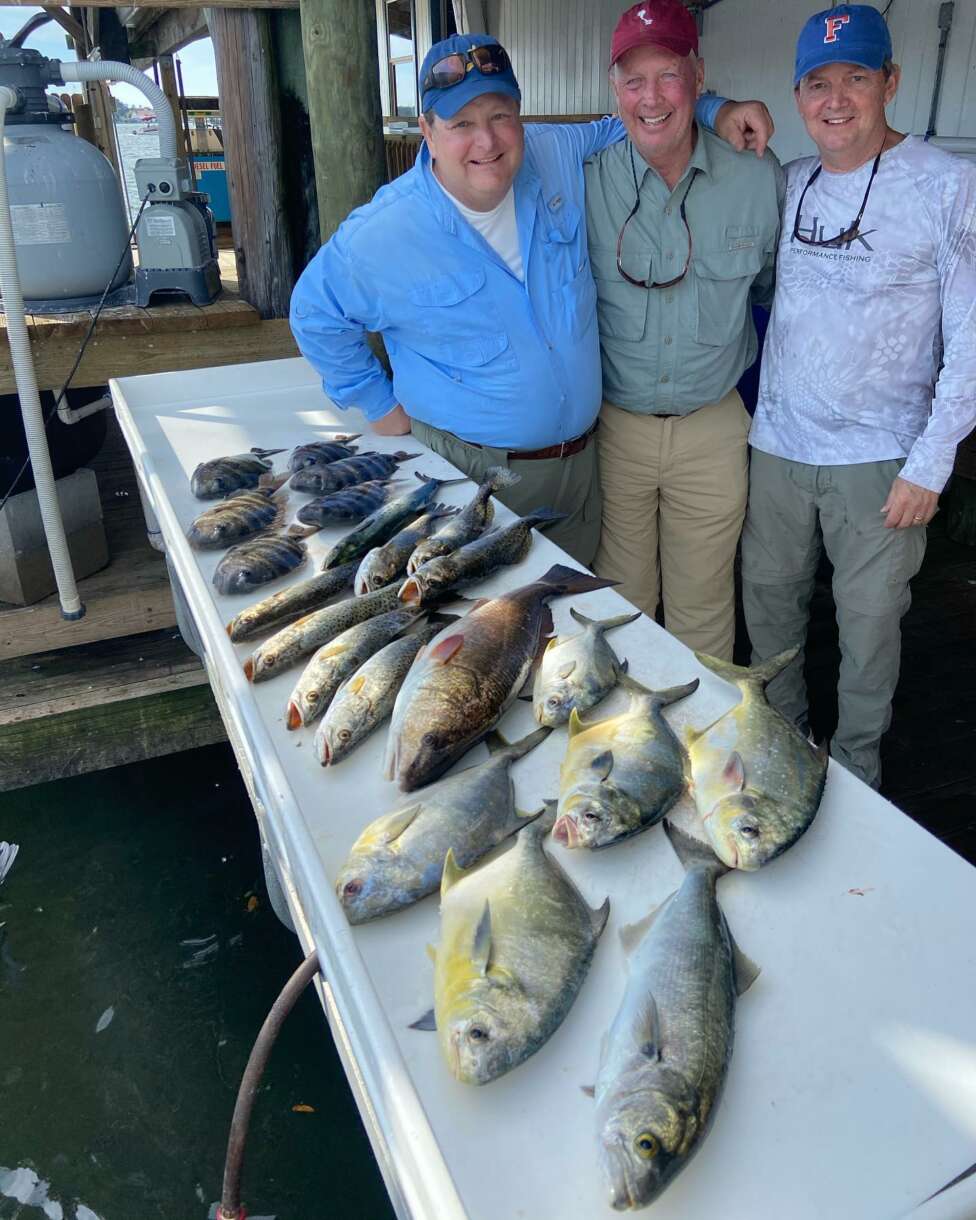 The best thing about this style of fishing, especially starting in January, is you can target a whole mixed bag in one day. Alongside sheepshead, healthy winter reds are out there, seatrout, and even pompano can be targeted all at the same time.
Chumming For Sheepshead
While "chumming" is not a regular occurrence with inshore fishing, there is a popular and longstanding trick anglers have used to attract sheepshead around structures. Anglers simply scrape the barnacles off of pilings and let them float in the area. Sheepshead come diving in for this "buffet" you have provided, and then you drop the tastiest of morsels (a shrimp) into the frenzy and get your sheepshead (hopefully).
People have also used oysters for this purpose, but oysters are heavily regulated. In this, I will quote what FWC has to say about all of this:
"Oysters and barnacles are very, very different when it comes to regulations.
Oysters have closed seasons, bag limits, size limits and can only be legally harvested in specific shellfish harvesting areas that are classified as "approved" or "conditionally approved" and in the "open" status. The Florida Department of Agriculture and Consumer Services Division of Aquaculture manages these shellfish harvesting areas.
Barnacles on the other hand do not have size limits or specified bag limits, which means that you can harvest up to 100 pounds per person per day with a recreational saltwater fishing license and you can use them to chum sheepshead. You can also simply scrape them off bridge piles and allow them to sink and attract sheepshead. Do not scrape barnacles from private docks or other private structures without permission of the property owner."
Size And Bag Limits
According to current regulations from FWC, the size and bag limits are as follows:
Minimum Size Limit: 12″ total length
Daily Bag Limit: 8 per person
Vessel Limit: 50 per trip during March and April
Season: Open year-round
*State regulations extend into federal waters.
Source: FWC: Sheepshead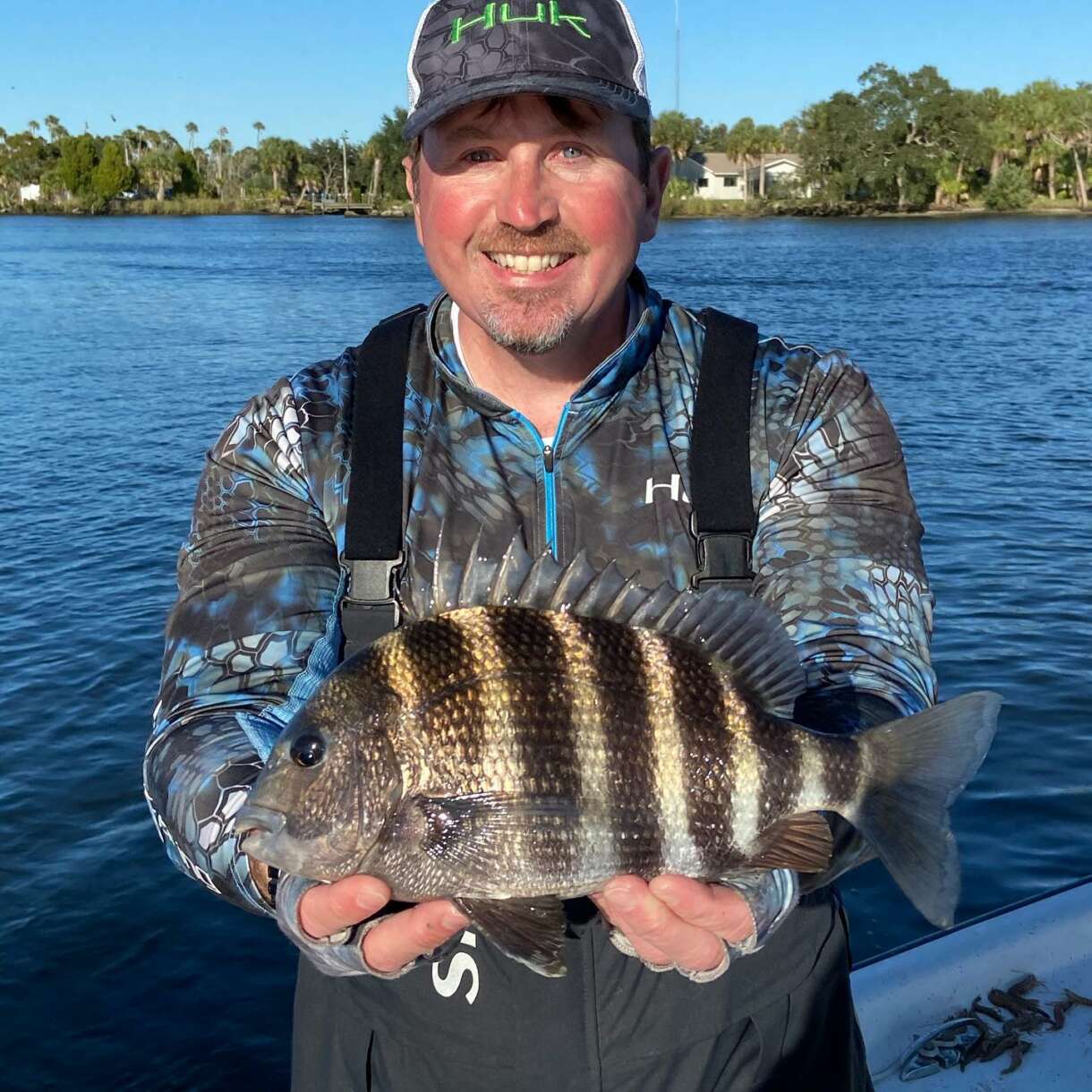 Fish Crystal River With Us
Captain Casey here at Crystal River Guide Service knows the ins and outs of the fishing seasons here in Crystal River. During this time of year, he begins scouting for sheepshead movement, while targeting our other wintertime favorites (redfish, gag grouper, snapper, Spanish mackerel, and others).
So, whether you are looking to specifically get on sheepshead, or are just looking for an awesome day of fishing – he is your go-to local pro.
This is the result of a scouting trip just a day ago, December 28th: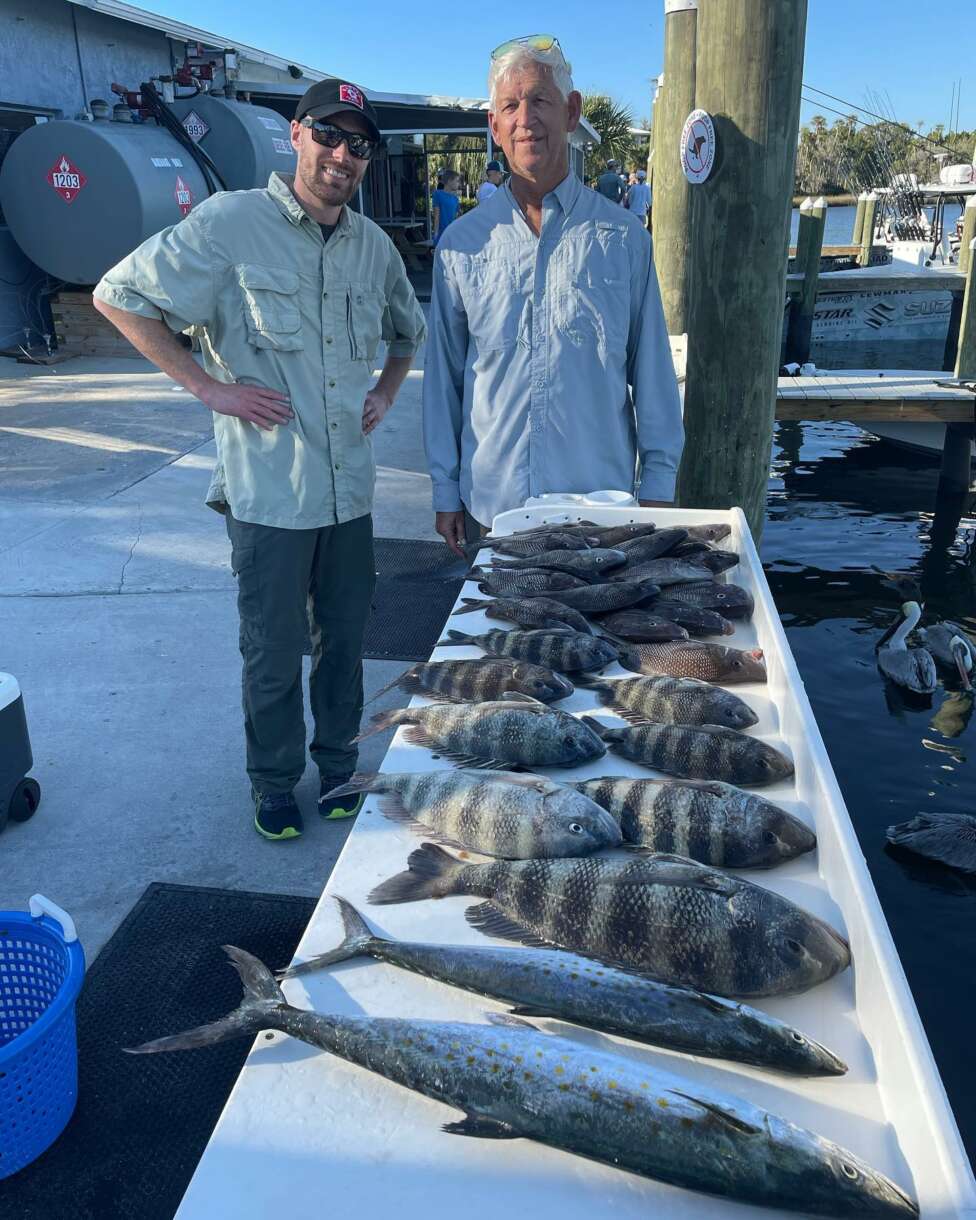 If you are ready to start planning, start here.